Jenna Carpenter, FNP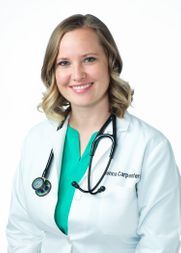 Jenna Carpenter received her RN degree from Northwest Missouri State University in 2012. While working as an RN she spent time in general medicine units as well as critical care and emergency room. In 2018, Jenna graduated from Maryville University in St. Louis, MO, as a Family Nurse Practitioner, (FNP). As an FNP, Jenna has practiced in neurosurgery and has been in Family Practice/ER for nearly 2 years. 
Living in the community has given Jenna the opportunity to get to know the people she sees in her practice. It has allowed for education and trust to build. Properly treating the patient and getting to know them is important to Jenna.
Jenna, her husband and 3 children enjoy attending school activities, golf and swimming.